Looking for replacement owners for two orphan teams in a 12 team dynasty. Pretty standard rules and scoring. Here's the link, and the teams are labeled Open Team 1 and Open Team 2. Both teams have all their rookie picks, and the draft will be coming up soon.
The most customizable way to run your fantasy football league on the web today, MyFantasyLeague.com was voted 'Best Fantasy Commissioner Product' by the Fantasy Sports Trade Association, and has won several additional significant industry awards. Our 28 years of experience means we do fantasy...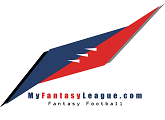 www48.myfantasyleague.com
League fee is $35 through LeagueSafe. It's a fun league, good group of people and a good mix of competitive and fun. If you're interested or have any questions, please let me know!